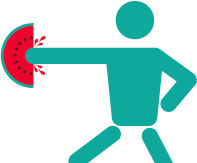 THIS YEAR'S SPORTS PODGE LUNCH
WILL BE HELD ON
FRIDAY 4TH MAY 2012


AT THE INSTITUTE OF DIRECTORS
BY INVITATION ONLY!
POTENTIAL WORLD RECORD
HOLDERS WELCOME
WORLD'S LOVELIEST QUOTES

"Just to say thank you very much for the invitation to Sports Podge. I really enjoyed the day. The food was delicious, and it was fascinating to meet such a vast array of interesting people. It was a very well organised function and it would be a privilege to be invited again."
TERRY VENABLES
TV PRESENTER AND SPORTS JOURNALIST
BBC SPORT

"Thanks so much for the invitation to Sports Podge; what an amazing lunch. At first I thought it was a "typo" when I read the invitation but soon realised upon my arrival that it the most fantastic place to sit down with fascinating sporting folk and have a good meal and talk about anything and everything. An inspired idea and very much enjoyed by this knackered old rugby player; thank you."
MARTIN BAYFIELD
"I thoroughly enjoyed my first Sports Podge lunch. It's such fun to be amongst friends in sport in a relaxed and informal atmosphere with no agenda."
IVAN GAZIDIS
CHIEF EXECUTIVE
ARSENAL FC

"Fantastic venue, terrific food and wine. I enjoyed meeting so many old friends from different sports, as well as new contacts from all walks of life. I have now been to two of them and I look forward to the next one."
LAWRIE MCMENEMY, MBE
CHAIRMAN
SPECIAL OLYMPICS GB BOARD

I really enjoyed my first Sports Podge lunch. As well as catching up with friends it was a great opportunity to make new acquaintances. I'm glad someone warned me to clear the whole afternoon & evening for it!
KAREN PICKERING, MBE
FOUNDER
SWIM

I thoroughly enjoyed my first sports podge lunch, so much so that I am begging to be added to the list for next year! It was not what I expected and found myself in the company of an array of professionals from all walks of life & the time whizzed by which meant I almost missed my train. I would recommend it to everyone given the opportunity to attend.
MICK FITZGERALD
CHAMPION JOCKEY

"I loved my first Sports Podge. Relaxed, refreshing and reassuring to know that people in sport are the most fun to be with, it was the perfect antidote to a long night of watching election results. I had a wonderful time, drank far too much and realised I had when I suggested a floating stadium to a stadium designer. He was very sweet not to dismiss it out of hand."
CLARE BALDING
TV PRESENTER & SPORTS JOURNALIST

"Thank you for the invite to the Sports Podge event, it was very enjoyable. It was a real pleasure to meet people with such a variety of perspectives on sport, in a relaxed atmosphere, over an excellent lunch in an impressive venue. Thank you also for your support to Commonwealth Games England it is very much appreciated."
DAME KELLY HOLMES, MBE
PRESIDENT, COMMONWEALTH GAMES ENGLAND

"The Sports Podge lunch is a fantastic event providing a great opportunity to mix business with pleasure! One of the best sports networking dinners that always lives up to expectations."
RICHARD BEVAN
CHIEF EXECUTIVE
LEAGUE MANAGERS ASSOCIATION